Forget the Meta Descriptions length and create high click snippets
UPDATE APRIL 2019: Featured snippets are still very popular, even the Meta Description length remained at the usual 150-155 characters. Similar to the end of 2018, Google still often pulls arbitrary parts of the website and uses them as a description. For featured snippets the following applies: As it currently looks, the so-called position 0 on Google is even becoming increasingly relevant: Google is now also using PDFs and tweets. The Google bot now sometimes takes the picture from one website and the text from another. How this will develop in the future and which other sources Google will use must continue to be observed.
If you look at his Meta Descriptions over the course of 2018, it is noticeable that Google constantly changed the length of the Descriptions. From short to long and from long to short. In addition, Google increasingly ignores the description and takes content from the page instead. This caused thousands of SEOs and webmasters to smoke their heads in 2018. First they extended the descriptions of all their pages, then shortened them again a few months later – a pagan job. Why one should not go crazy about the length of the Meta Descriptions 2019 and also in the future any more and how the perfect snippet, which is also clicked (!!) looks like, you will learn in the following…
How it came to confusion about the Meta Descriptions length
December 2017: Extension to 320 characters
May 2018: Shortening of Snippets
November 2018: Dynamic Snippets
UPDATE April 2019: Same Meta Description Length and Formats for Featured Snippets
The 5 most effective tips für high-click meta descriptions
Featured Snippets: That is new in 2019
How do I get a featured snippet for a specific keyword?
Conclusion and outlook on Meta Description and Featured Snippets 2019
How it came to confusion about the Meta Descriptions length
December 2017: Extension to 320 characters
About a year ago you suddenly saw snippets with 3-4-line descriptions. This was also confirmed by the SEARCH ENGINE ROUNDTABLE on December 13, 2017: "Last week Google confirmed that they provide longer search snippets. But they also said about Danny Sullivan that Meta Descriptions do not need and should not be updated to support longer search result snippets. They said it's a dynamic thing and Google can handle it.
Tests have shown, however, that the majority of URLs that were still displayed shortened in the search results were also displayed quickly extended in the search results with extended titles. Many webmasters did not follow suit. Therefore, at times the increased attention and more clicks were given. Others were of the opinion that this was a permanent change. The former were right and again thousands of SEOs and webmasters had to adjust and shorten their descriptions again.
May 2018: Shortening of Snippets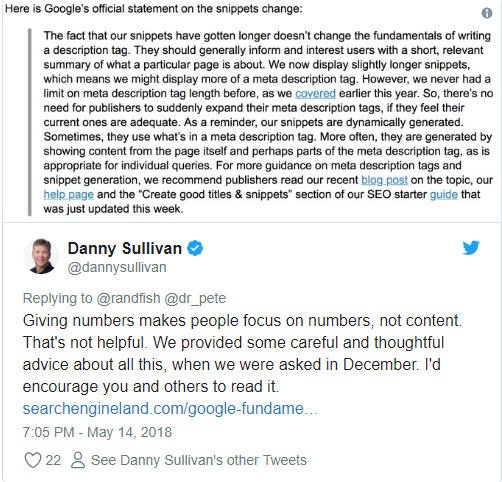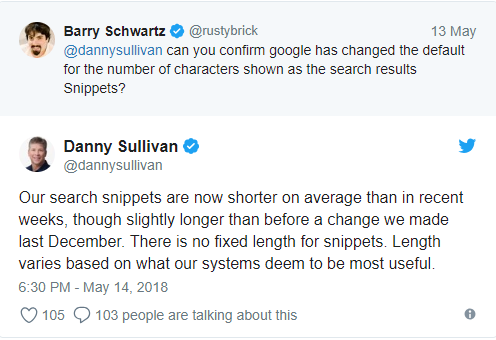 After displaying up to 320 characters as snippets over the past months, Google has made another change. On Twitter, Google employee Danny Sullivan confirms that the length of the snippets now tends to be shorter again. Instead, he emphasizes that the snippets are dynamic and not bound to a fixed number of characters. Webmasters and of course SEOs should therefore focus more on the content of the meta descriptions rather than on the number of characters. In addition, it is still the case that Google does not necessarily output the given meta description as a snippet, but can also use parts of the page content. Danny Sullivan confirms that the snippet length has been shortened and refers to the dynamics of the snippets. Not the number of characters is decisive, but the content.
July 2018: Featured Snippets
Our influence on the meta descriptions currently seems to die a slow death. But we still have influence on the snippets, though much more difficult. In addition to the usual Google rankings and ads, search results have long shown other formats – the long believed "click miracle" among them is the Featured Snippet. However, this has been disproved in recent results, the click rates are better, but far from as good as expected.
Featured Snippets is a content excerpt located in a box above the usual organic search results.
The text components that make up the answer are composed by the search engine from the content of the linked page. There are pure text snippets, text snippets with images, video snippets as well as tables and lists. Especially in times of dwindling influence of meta descriptions it is desirable to land in a featured snippet with a concrete answer, instruction or definition. In addition, highlighted snippets affect the length of the displayed SERP snippets of the pages. Pages with featured snippets tend to allow much longer SERP snippets in search results.
November 2018: Dynamic Snippets
The Meta Description has now had the shorter length of max. 150 characters for several months. When displaying the descriptions in the SERPs, Google was often inscrutable and pulled arbitrary snippets from the text.
UPDATE APRIL 2019:
The Meta Description length has remained at the usual 150-155 characters. Similar to the end of 2018, Google still often pulls arbitrary parts of the website and uses them as a description. Featured snippets are still very popular. As it currently looks, the so-called position 0 on Google is becoming even more relevant: For the featured snippets, Google now also uses PDFs and tweets. In addition, the Google bot now sometimes picks up the image from one website and the text from another. How this will develop in the future and which other sources Google will use must continue to be observed. To find out how to create featured snippets with a lot of clicks and what's new, read our Featured Snippet Guide 2019.
The 5 Most Effective Tips for High-Click Meta Descriptions
Of course, good Meta Titles & Descriptions affect the CTR of a page. In addition, they establish the first contact between your offer, your company or your service and the searcher. Similar to a business card or an elevator pitch, you only have little time and space to present yourself in the best possible way, i.e. to get the click. The best way to do this is to use Google Ads ads, which contain a maximum of information (keywords, USP, promotions or discounts and call to actions) on the smallest space.
You want to write snippets that are really clicked? In the following you will learn the most effective tricks for the perfect snippets with a high click-through rate.
TIP 1: Reverse Pyramid
This model comes from journalism, the idea behind which is to put the most important information at the beginning and then go into detail. This means: start the Meta Descriptions with the most important information and the keyword. This is followed by additional details and the CTA. At the end, only nice-to-have information should follow. In this way, if Google wants to shorten the descriptions again, you can remain completely relaxed, because your core message is always retained.
TIP 2: Too short meta description is extended by Google
If your description is too short and still contains all relevant information, leave it as it is. If Google expands it, it will do so with the content of your page that matches the search query. So Google helps more or less to get a click from the searcher.
TIP 3: Crunchy Teaser
If the page has no meta description, Google will extract the most relevant page content as a snippet. Often you can influence this by writing a crisp and relevant teaser at the beginning of the text.
TIP 4: Note search intention
The Meta Description should also pay attention to the search intention of the searcher, for example the keyword search can be used.
TIP 5: AIDA principle
Of course, it is not easy to use the AIDA principle in such a short snippet text – but it works. The attention is drawn with an exciting meta title. Therefore, in the description "only" interest and desire must be awakened and an action (action) called.
This was the result of the practical test in April 2019.
Again we have done a lot of tests on the SEO Bavaria website. The result shows that 150-155 characters were still displayed as in the second half of 2018. As in the case of the SEO Bavaria homepage, this can be the beginning of the meta description stored in the backend.

This was also shown by tests on some of our blog posts:
---


---
As an alternative, Google can also output parts of the page content as snippets that differ from the meta description, as in our blog post about the Search Console Helper. The snippet comes from the content or teaser of the page.
Also in this test it was shown: Google adapts the snippets to the respective search query. If the same page is listed in the results for different queries, the paragraph displayed may vary. In addition, the search engine not only uses the extended meta description, but also the content of the page. In this way, the search engine can react to different search queries and increase the ranking chances of its own site.
TOP-TIPP 2019: Mit Icons in Meta Title oder Description punkten
Search results are about standing out from the crowd. An interesting search result can lead to a click and thus to a new potential customer. For some time now, Google has been allowing the use of emojis and other unusual characters in the hit preview.

It is often claimed that Google only displays these emojis in the page title if the relevance of the page matches the respective icon. However, this has not been confirmed in many of our tests. Many don't work at all. Unfortunately, it cannot be said that all icons that work in the page title also work unconditionally in the description. Often it was completely case-dependent, here you have to try a little. We do more long-term tests and report.
Learnings about Meta Descriptions in 2018/2019: Forget the length of Meta Descriptions
We wouldn't be surprised if Google continues to experiment with snippets in the future. We hope we could show with this article that Meta Descriptions should not be too long. As already Danny Sullivan recommended in May 2018, the snippets are dynamic and should not be focused too much on numbers. However, if you have to write new meta descriptions anyway, we currently recommend about 145-150 characters. It is very unlikely that they will be further shortened in the future. This length is intended as a guide and increases the chance that the written meta description will be adopted. In conjunction with our tips, the click rate can be significantly influenced by attractively written snippets.
Featured Snippet Guide 2019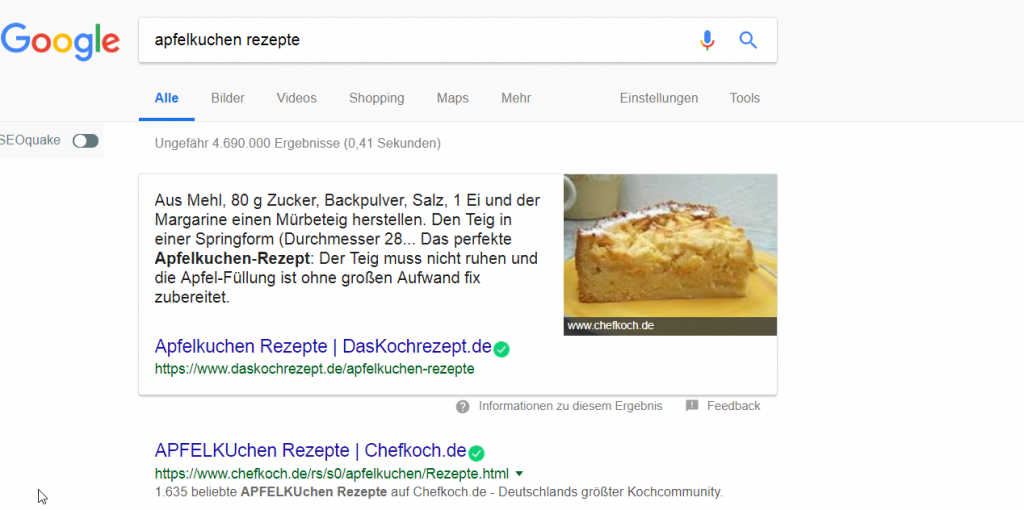 So it has many advantages to be displayed with your own page in a Featured Snippet. But the question is how. But for Google to display a featured snippet for a website, it usually has to be far ahead in the organic results. A site that ranks beyond the top 10 for a particular keyword has little chance of getting a featured snippet. Contrary to what was assumed just a few months ago, there is no requirement to include structured data in order for Google to display a featured snippet. Johannes Müller also confirmed this not entirely new insight via Twitter:
Featured Snippets: New for 2019
1. Contents of different websites combined
Recently, Google has added another variant of featured snippets that combine content from different websites.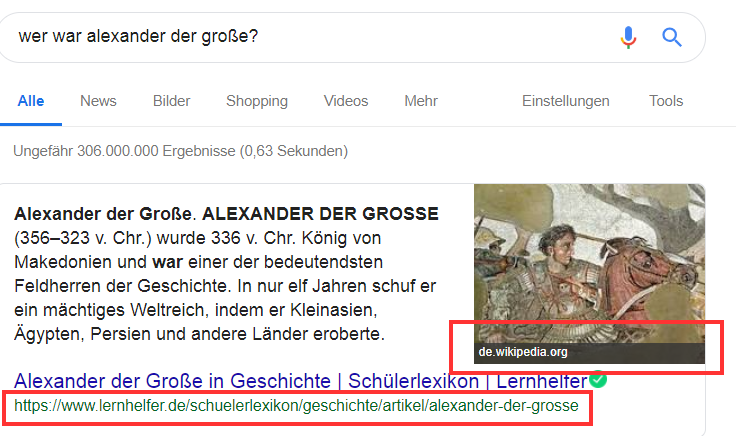 The following example was posted by SEO Cyrus Shepard on Twitter. It shows the mobile search result for "seeds with highest omega 3":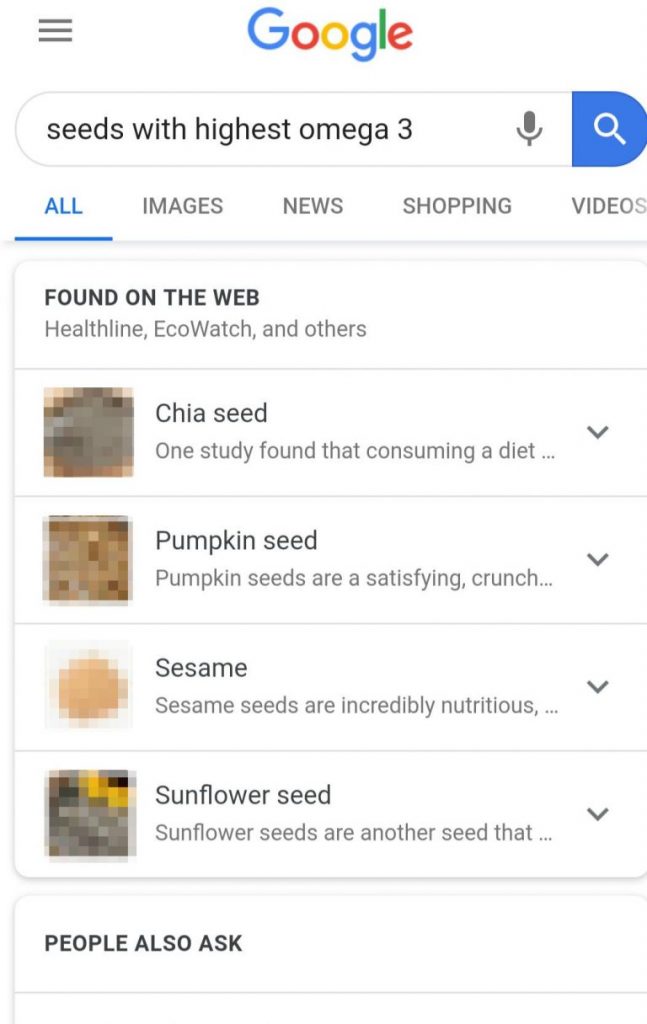 This caused a lot of criticism in the SEO scene, because it supposedly leads to less traffic on the source pages. Links can be reached via a drop-down menu to get to the source pages. These "hidden" links reduce the probability that a user visits the source pages. In addition, all important information and the answer to the question already appear in the search results list.
Danny Sulivan confirmed on Twitter that this new feature has been around for several months and that SEOs should keep in mind that new formats always offer new possibilities:
2. PDF files and tweets as a new source
For some time now, Google has also been using information from PDF files or tweets for featured snippets. Britney Muller has discovered this. She posted the following message on Twitter: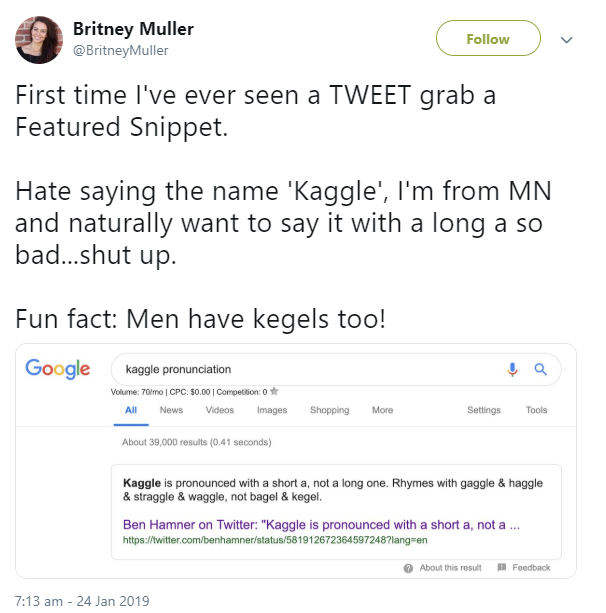 3. Some featured snippets now link to the appropriate page area
Certain featured snippets in mobile Google search are now directly linked to the area of the source page from which the displayed content originates. Until now, this variant only worked for the English search queries, but could not be reproduced for the German ones.
After the click a jump is made to the corresponding text passage of the source page. This is highlighted in orange: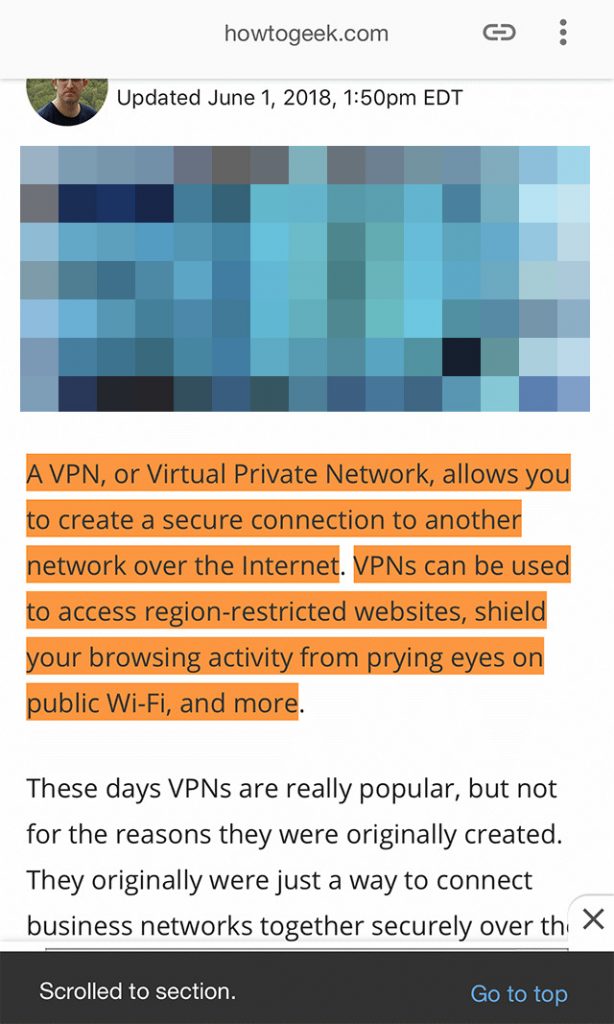 4. Featured Snippets at Bing: Bing search is becoming more and more advanced
Microsoft is working hard to close the gap behind Google. In terms of technology and with better results – even the Bing search is becoming more advanced in terms of featured snippets.
In the third quarter of last year, Featured Snippets with tabs were increasingly found in the Bing search. You can click on the tabs and see an excerpt from the main topics on this page. Also in this example the tab "all methods" is listed, although the main article does not contain this heading at all. Another interesting finding is that these results are not always on the first position in Bing (position 0). Frequently they are also only included at position 2 or 3.
How do I get a featured snippet for a specific keyword?
In order for your own page to appear in a Featured Snippet, you should consider the following points.
The exact keyword should be in the heading (e.g. H2).
Longtail keywords are well suited for speech searches, as they usually enter entire sentences and display the featured snippet as the answer.
Trigger words like "What is …?", "Tutorial" or "Step by Step" are recognized by Google as parts of a definition, tutorial or answer.
Particularly frequently displayed for example instructions, recipes, definitions of technical terms, health, finance and mathematics topics.
Suitable HTML tags should be used for lists and tables. As always, structure is important in relation to SEO.
The paragraph following the heading should refer as closely as possible to the keyword and provide a useful answer in 40 words.
Featured snippet capabilities can be discovered with SEO tools like SEMrush or Ahrefs
For a tables featured snippet, the table structure should be simple and well formatted so that the Google bot can easily extract data from it.
Optimize content with small information fields
Conclusion and outlook on Meta Descriptions and Featured Snippets 2019
Why Google did these test runs and made constant changes is unknown so far, but who understands the complicated heart of Google, the algorithm? Maybe the long SERPs were clicked too little because there was already too much information in the meta descriptions or Google needed the space on the search results page for something else like featured snippets (or knowledge graphs, videos, universal search boxes, maps, rich snippets, etc.).
However, Google can change the displayed length at any time: Who knows what Google will do in half a year? Or in 6 weeks? Or the day after tomorrow? Nobody knows. What does that mean for us SEOs? We should simply try to make the descriptions as attractive as possible for potential visitors and stick to the length guidelines. This also increases the probability that our stored description will be regarded by Google as optimal for the visitor and will be displayed in the search results.
With the featured snippets it remains to be seen how these changes will actually affect the search traffic. At least it seems clear that Google is very interested in offering users as much information as possible on the search result pages. This will not change in the future.
Since Google has been very innovative with snippets in recent years, we continue to monitor the changes. We are planning further tests for the Meta Descriptions and update this article continuously.
What are your experiences with the length of meta descriptions and snippets?
As always, we are happy to receive hints and observations from our readers by mail or commentary.
Sigrid ist die Gründerin von SEO Bavaria und kommt ursprünglich aus der Film- und Videobranche, hat aber bereits damals an HTML-Codes gebastelt und auf "Google Video" optimiert (Vorläufer von YouTube). Sie ist nun seit über 10 Jahren im Online Marketing Business tätig. Zunächst fokussiert auf SEO, nahm sie mehr Disziplinen des Online-Marketings mit ins Portfolio. Dazu holte Sie Mitarbeiter aus den Bereichen SEA, Social Media, Webdesign und Conversionoptimierung, Coding, Mailmarketing und E-Commerce ins Team, also alles, was mittlerweile zu erfolgreichem SEO gehört. Sie betreut Kunden aus Deutschland und der Welt, kümmert sich um den Aufbau von Website- und E-Commerce-Projekten und beschäftigt sich mit beinahe allen Themen, die im Zusammenhang mit digitalem Inbound und Outbound Marketing, Usability und digital Brand- und Geschäftsentwicklung stehen. Heute ist Sigrid auf der ganzen Welt zuhause und arbeitet von überall, wo eine Internetverbindung vorhanden ist, als Freelancerin für SEO Bavaria. Für unseren Blog informiert sie über aktuelle Themen aus der Online-Welt.